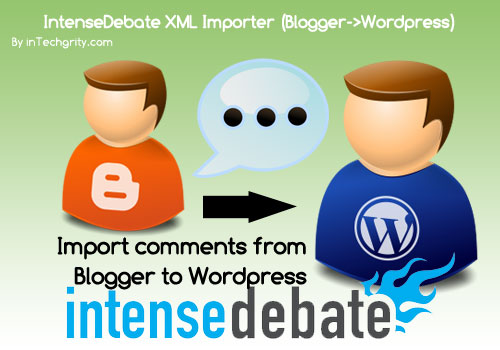 Okay, so after quite a bit of wait, here is our First WordPress Plugin… We have named it, IntenseDebate XML Importer and what it does is, imports your Blogger Intense Debate comment to your WordPress blog. This is very useful if you are migrating your blog from Blogger to WordPress and want to keep your Intense Debate comments while migrating.
Update- 13/8/2010: 20:00: We have released a version 1.0.5. I have fixed a major bug causing insertion of comments on wrong posts. This was happening when the importer was unable to find any post for the current title. It was importing comments to the previously found post then. I have fixed this issue. Also have added an Intelligent Title match option which will search the title instead of exactly matching it. As ID truncates the post title and replaces special characters, so I found this method to be very useful. You can also go with the Exact match if you want. Don't forget to do a Simulation run before actually importing the comments. Also dont forget to watch the new video…
Update- 13/8/2010: We have released a version 1.0.4. Now the plugin is maintained over WordPress plugin repository. All the download links have been updated. Please redownload if you want. Thanks to Gautam for fixing the plugin and making it at per with current WordPress standard.
Previously, we were using Intense Debate as our Blogger commenting system. So all the comments were saved on Intense Debate database instead of blogger's database. Now WordPress Importer does import comments from Blogger, but it is [and no point, on why it should be!] not designed to import comments from any third party services… So, once we shifted to WordPress, we really started worrying about loosing all our comments. Although Intense debate had a plugin to import comments to WordPress, but due to some reason, they had discontinued the service for some reason! Now that was really a thing to worry about…
So, I turned on my Komodo and started editing their existing plugin to work on the new system! After a few hours of work, [probably 1] I finally reconstructed the plugin to work for the new system!
Here is what it does…
You Take a backup of all your comments using the backup feature from Intense Debate;
You Install and run this plugin.
The plugin asks you to upload the Exported XML file containing the backup.
You upload it and it inserts all the comments into WordPress database based on the Title of the posts.
Also it stops the insertion of any duplicate comments, and it has a Simulation feature which will show you the result without actually importing the comments.
Quite effective right? Basically the algorithm was taken from the great plugin of Josh Fraser who coded it first for Intense Debate. We (me and gautam) have developed over it to make it more useful. Here is the complete method of using the plugin… But before a demo and download link. The demo is based on a post at inTechgrity where it shows our old imported comment! [You would probably like the post also 😉 ]. The download would take you to the plugin page on wordpress…
#0: Saving a backup XML from Intense Debate:
That's it! Now move on to the next step
#1: Installing the plugin:
Updated 13.08.2010:
First download it from the link above! You will find a zip file! You dont need to unzip it… Just keep it handy.
Navigate to your WordPress Dashboard » Plugin » Add New » Upload and upload the zip file. Now activate the plugin.
Or you can also search it with the term "IntenseDebate XML Importer" directly from plugin directory and install.
That was easy, right?
#2: Using The plugin:
#2.1: Running a Simulation test before importing:
Since version 1.0.4 you can run a simulation before actually importing the comments. It will show the results without touching the database. To do this just follow these instruction…
Go to IntenseDebate XML Import from the Settings menu from the left menu bar.
Browse and upload your file. Also check the Simulation mode.
Click on Import and it will show u all the results without actually importing anything.
#2.2: Actually Importing the comments:
Go to IntenseDebate XML Import from the Settings menu from the left menu bar.
Now simply click on browse and upload your XML file. Do not tick the Simulation Mode. Now wait for a little! It will show you the summary of the imported comment as below…
You should be now satisfied with the result 😉 . If not then do drop us a mail and we will see what we can do!
And here is a video, showing you the Import with Simulation mode. Also it will explain the new added feature Intelligent Title matching.
#3: Some backend Features:
Automatically sets the timeout to 0 (ie unlimited), to avoid any time out error.
Check for duplicate comments in a better way.
Thanks to Gautam for adding translate ability to the Plugin. He did a lot to make the code at per with WordPress standard.
FAQs:
From where can I download the XML file?
From [Intense Debate] Dashboard navigate to your Site. Then from the sitebar Click on XML Export. From there save the generated XML file.
Can I use Intense Debate as my WP commenting system as well?
Of course you can! But before installing ID to your WP blog, make sure to run this plugin once! Else the comments for older posts won't appear!
How can I move my Blogger Blog to WP without changing the Permalink structure?
Quite offtopic! But still… [HERE] is the perfect guide for you! Even I have followed the same. And if you still cant figure out how to do it, I would suggest you to ask these guys for a complete paid migration service. I personally know these guys, and they are really good at their services. Every penny you pay to them will be worth! BloggertoWP Service by rtCamp.
Do you accept Blogger to WordPress paid migration service?
Currently NO, in future maybe! I would suggest you to go for BloggertoWP.
So if I maintain the Permalinks, will the existing Intense Debate Account work?
Quite intelligent question! Even I thought the same. But the reality is it won't work! When you install ID comment system from Blogger to WP then the comments according to the Permalink, remains stored inside ID database, not on WP database. So the comments would come on widgets by Intense Debate. But won't be shown on the actual post pages. So, you should import the comments, then use delete the existing ID site, then reinstall to make it fully compatible!
Change Log:
Version 1.0.5 (13-08-2010)
Fixed a big bug which was casuing insertion of comments on previous posts when no posts were found for the title
Added an Intelligent Search option for better result
Version 1.0.4 (13-08-2010)
Added a simulation mode to test the import result without actually inserting the comments to the database
Fixed the duplicate comment bug a little more
Now the plugin will tell you how much memory it has used. Useful for people on shared hosting.
Set the time limit to 0 (unlimited) to avoid timeout error
Version 1.0.3 (12-08-2010)
It will show the link to the post where the comments have been imported
Will give a more precise result on how many comments out of the found comments have been imported to a particular post
Will also showthe total number of posts and comments found on the uplaoded XML file
Finds duplicated comments on the name, email and content basis. Removes the IP test and URL test. Dont know why, but Intense Debate shows a blank URL. So removed the URL test.
While finding duplicate Comments instead of perfect match I now use a MySQL Like method. It minimizes the chances of getting duplicate comments
Version 1.0.2 (11-08-2010)
Added the ability to translate the plugin
Cleanup of code
Version 1.0.1 (11-08-2010)
I hope this plugin was useful to you! We will put the plugin in WP directory very soon! Till then, you can download it from the link above! We have already put the plugin in WordPress plugin directory. You can browse it here. The previous download link is no longer maintained. If you face any trouble do ping us here! Also do give your feedback…