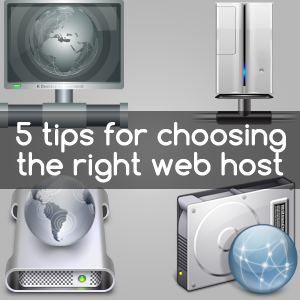 We have discussed a lot about web hosting and domains previously. One of the most important thing to consider while buying any web host is, undoubtedly, the value for money. Everyone wants to choose the right web hosting company for his/her business. Now, this is easy to say than to actually compare. With so many parameters of a reliable web host, so many features of a good web server, it just becomes difficult to choose among the "best"s. Luckily, there are services in the Internet which makes our job a lot easier. By looking into comparison tables, reading expert reviews and statistical analysis, going through highlighted features, we can get a better idea before putting money behind a web host. But still, you should have the basic (and well a little advanced won't hurt) idea of today's server technologies and cost for a profitable long term investment. So, we are going to discuss, what you need to consider before buying any web host. We shall also see some of the reviewing websites from where we can get aggregated information.
Things to consider before buying:
Out of my own experiences, I think, one should consider the following constrains while buying any web host:
#1: Offer Price & Renewal Price:

The first thing that should come into mind is, indeed the money. After all you are investing something for your company, so you want to be sure that you get the maximum out of it! Most web hosting services out there offers very less price while buying, and then the renewal price becomes higher. Mostly people overlook this thing. We buy using some promo code and then after a year or two, when the renewal time comes, we have to spend rather a lot to continue the service.
#2: Specifications & Features:

The most concerned features and specs are, perhaps, diskspace, bandwidth and number of addon domains. The more number of addon domains you have, more number of sites you can host. So, you know that you not just put money behind a single website hosting, rather a multi website hosting. Now a days, most good web hosts give unlimited addon domains.
Technical Limitations: Apart from the unlimited stuffs, you should look into the technical limitations. Some host might give you unlimited bandwidth at the cost of limited domains and vice versa. Just keep in mind, what do you really need from your host.
Domains, Addon Domains, Parked Domains & Sub domains: The main domain is the domain which is registered primarily with your web host. The addon domains are other domains which you can add and host using the same web host. The parked domains are "parked" on some directory of your existing sites. If someone enters the URL of the parked domain, then it will show that directory (and the index file if present). Now sub domains are the children of your main domain. Say, you have mydomain.com as your main domain or addon domain. Then, mysubdomain.mydomain.com would be a sub domain. Now a days, no limits are imposed on all these, which means, with a good web host, you can host unlimited domains with unlimited sub-domains.
Domain portability: Another thing you look into is, domain portability. Some hosts out there force you to register your domain with them. Personally, I don't prefer to do business with such web hosting companies. What if I want to move my sites to another host? Web hosts which gives the flexibility to add your already registered domain via the name servers, are always my first preferences.
Bandwidth: The bigger the value, more visitors your webhost can support. With unlimited bandwidth, this is not an issue in shared hosting. But if you are going for VPS or VPN or Cloud, then you should look into the bandwidth and consider it seriously with respect to the number of visitors in your site. An average site, with around 1500-2000 page visits per day, might consume upto 100GB per month, depending on the data provided by the site. (This figure is mainly for image heavy sites, a text heavy site will actually consume much less bandwidth). You can use tools like Firebug to check out the size of your pages and estimate average bandwidth by multiplying it with your daily average page visits.
Disk Usage: Larger value indicates bigger possibilities for storing audio, video and image files. But also keep in mind that a nice disk usage limitation is useless without a nicer Bandwidth cap. So choose wisely. You won't want to have a web host with 100 GB diskspace yet only 10 GB bandwidth per month.
Server Technology: The technology depends explicitly on your requirement. If you want to publish a .net or aspx site, then you would prefer Windows Hosting. Where as, if you are familiar with Open source technologies like PHP, MySQL etc, then Linux Hosting should be your first choice. Some of you might want to have several other technologies like Ruby on Rails, Perl, CGI etc.
Website builder and Auto Installer script: Now, not everyone of us buy a webhost to create their sites from scratch or install CMS at their own. There are services like softaculous, fantastico etc which makes our job even easier. They provide a one click installer for popular CMS like WordPress, Joomla etc. All of the good web hosts should provide atleast one of these auto-installer scripts.
Emails & Accounts: If you want to access your email directly within your host, this should be your concern. Personally, I prefer using google apps to setup my email accounts for the domain. But this feature should not be overlooked.
#3: Server Performance & Uptime:

You don't want your website to be down. There are already services which does the job for us. But in most of the times the information provided is bloated with just too many details. The thing which one should look while choosing a good web host, is, the average uptime for the target region. Which means, if your target visitors are from US, then obviously you should not come into any conclusion from the UK's uptime.
#4: Technical Support:

The next most important thing, is perhaps, how much support and technical help your web host can give. Mostly, now a days, big web hosting companies like Hostgator, Fatcow, BlueHost etc, have their dedicated support forum for their customers. Also, they give 24X7 toll free numbers where you can call and easily get help, regardless of your location. So, you should consider this aspect as well. If your site goes down, then there should be someone to recover.
#5: Compliance:

When you are using any external web host to host your site, then you should be aware of a few things. Because after all, it is your web host who is finally showing your site to the world. I would recommend to go through it at least once, before buying any web host. It is generally found at their Policy.
Doing your own researches:
Recently I was looking into fatcow and bluehost reviews in the internet. As an experienced blogger and developer, I am already aware of these two web hosting services and I used to think bluehost is any day better than its competitors because, it has spend more time in the business. But, surprisingly, my concepts changed as soon as I looked into those reviews. Here are the few of the points I noticed:
Fatcow will give a 24 months plan at only $3.67/month (at the time of the review). Now that's quite a lot of saving. Whereas, for BlueHost it is $19.95/month (although it is for reseller plan, but I prefer to stick to normal plans).
For bluehost, it is $19.94/month for reseller plan. I could not found any offer on normal plans. They have 100GB diskspace, 15Mbps bandwidth, unlimited accounts, but they did not provide any easy to get information on bandwidth cap.
Fatcow gives free domain & setup along with 75$ marketing credits. Also, just like bluehost it has unlimited addon domains along with unlimited diskspace and bandwidth.
User recommendation of Fatcows beats BlueHost by 35%. For big web hosting companies like this, 35% is really something to consider.
So, from all these points, I could figure out that, had I wanted a reseller web host, I would have chosen BlueHost, but, as my needs are limited, so FatCow gives the best solution for me at a very reasonable, rather cheap price.
I hope you have found this review useful, and it will help you find the best web hosting for you. If you have any doubt, feel free to comment. I will be more than happy to help you.